With over 20 million installations around the world and roughly 100k users daily, HP Photo Creations has become one of HP's most successful desktop applications to date. Operating as the user interface designer and design director, I coordinated new content and expanded our catalog of offerings. 
This platform eventually became "White Labeled" for companies like Kodak, Xerox, LG, and Samsung as well as smaller print shops throughout the world.
The catalog needed to be translated into 26 different languages. This was handled through Translation ID's. By tagging content with pre-formatted text phrases, we could switch text and images based on the user's chosen language.
​
Initially, I designed everything that went into the catalog, templates, marketing pages, page banners, upgrades and more. 
​
Once we were more established, I was responsible for monthly content release schedules by overseeing several in-house designers, as well as hired contractors. 
Designing templates for unlimited aspect ratios, number of pages, and unique production files, I realized this was not expandable. Working with the programming team, we developed and patented the RocketLife Creation System. 
This theme designer pinned, stretched, repeated and applied filters, allowing one theme to be applied to any number of products regardless of its aspect ratio.
Editing, Ordering & Printing
I was responsible for the user interface. It had to be approachable for beginners, but robust enough for advanced users as well.
Interactions had to be intuitive enough to handle the creation of over 50 types of products, from photo books to mugs.
Upgrades were available to users through add-ons and graphics packages.
Ordering needed to route files to printers throughout the world, and print at home projects required instructions.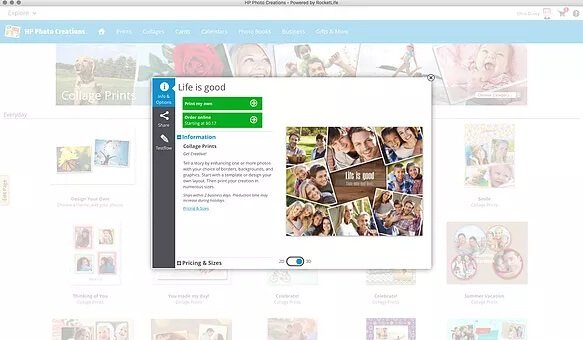 This shows the adoption of HP Photo Creations as a mobile experience. 
Account information, as well as basic navigation experiences, are exhibited.
RESPONSIBILITIES
UX/UI Design

User testing and Feedback
This use flow prototype shows how editing might work on a mobile phone.
RESPONSIBILITIES​
UX/UI Design

User testing and Feedback
Fort Rock Brewing
Light
Designer